The new Flow Meters filling machine generation of NESBAD ITALY,  features major innovations. Endress+Hauser's Dosimag and Dosimass flowmeters with integrated batching functionality are key components of Nesbad's new range. These new flowmeters control the filling process autonomously, providing a constant and outstanding filling performance over time, even under changing conditions. In addition, our new range design simplifies tasks during operation, service and maintenance.
This system permits to dose liquid products in each cup.
A structure supports the system above the cup and an electronical commanded ENDRESS+HAUSER mass flowmeter system allows to control the dose.
The complete system is composed of:
Pressurized Tank, positioned above the machine, heated, and equipped with stirrer.
Load cells system to weight the liquid in the hopper
Valves and auxiliaries for product flow control
E+H [Endress Hauser] DOSIMASS: mass flow meter for dosing control
Set of nozzles with shutter to fill avoiding liquid tails and drops
A suction back system can be added on the injectors, if necessary, to avoid any loss of product
MAIN FEATURES
Circuit and equipment for liquid product design based on high hygienic concepts from the aseptic food processing technology
AISI 316 and food grade certified material in contact with product
Manufacturing and assembly features based on the aseptic industry technology
CIP (CLEANING IN PLACE) system included and integrated to the pump
E+H Mass flow meter fully integrated to the DOYSTAR machine based with electronic control of the dose
Hopper with a load cell to define the level of product inside, no probes in contact with product.
DOSIMASS MAIN FEATURES

Direct and highly accurate mass measurement
Coriolis flowmeter • Measured variable: Mass/volume flow
Independent of the physical fluid properties
Applicable up to +257°F and 580 psi (+125°C and 40 bar)
Especially for handling different fluids
3/8" to 1 (DN 8 to 25)
DOSIMASS MEASURING PRINCIPLE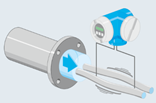 Each Coriolis flowmeter has one or more measuring tubes which an exciter causes to oscillate artificially. As soon as the fluid starts to flow in the measuring tube, additional twisting is imposed on this oscillation due to the fluid's inertia. Two sensors detect this change of the tube oscillation in time and space as the "phase difference." This difference is a direct measure of the mass flow. In addition, the fluid density can also be determined from the oscillation frequency of the measuring tubes.
The temperature of the measuring tube is also registered to compensate thermal influences. The process temperature derived from this is available as an additional output signal.